Landour can be called the crown of Mussoorie. If you want to see India during British rule, then you can catch a glimpse of that time in Landhor, located near Mussoorie in the state of Uttarakhand. Actually, the history of the entire Mussoorie is very old, Landour had special importance during British rule in India.
A place where you can see what kind of environment the British used to live in. Old buildings, wooden furniture, churches, and much more will make you feel like you are living in those days of history.
As its name suggests, the word Landour is not Hindi. Apparently, the place was named by the British after Llanddowror, a village in south-west Wales, which later changed its name to Landour.
The British were awestruck by the hilly beauty of this place, and after that, they made this place their own. Living amidst immense peace and flying clouds is truly a heavenly experience. The tall deodar trees and the thick, dense hilly forest are a momentous experience.
Today, Landour is one of the most preferred tourist destinations in the whole world. Situated in the calm and cool climate of the Himalayas, this place may be small, but there is a lot to do here. A different view every evening and soothing soft music adds to the beauty of this place. Even without wanting to, we read this thinking that we have not gone down in history.
Landour is quite a peaceful and beautiful place away from the hustle and bustle of Mussoorie. Here, you are really closer to nature.
What is special in Landour?
The praise for the specialties of Landour is less. Often, people say,Whatt is special about Landour, why is it so offbeat? There are many questions like this, but for the information of all of you, let me tell you that nothing has changed in Landour in the last 100 years.
The 1924 Act stated that all trees/plants in the area and the entire hilly part would remain with the army. As a result, not a single tree has been cut down in Landour for the last 100 years. Also, as per the Act, any new construction in Landour is completely 'illegal'.
There were only 24 houses here even 100 years ago, and even today there are the same number of houses. It is said that "24 houses, four shops, this is the identity of Landour". You can imagine how Landour remained untouched. Everything pales in comparison to the natural beauty here.
Some Other Interesting Articles To Read:
Major tourist places to visit in Landour
As we were climbing the heights towards Landour on rented scooters from Mussoorie, strange feelings were coming to our minds when we saw the empty roads. After walking every 100 meters, it seemed that this place was fine, Let's stop here and do a photo session. Almost everywhere the bus went, I felt like staying.
The atmosphere is surrounded by clouds, cold winds, dense forest, and an empty path from above, definitely, all these things cannot be called ordinary.
Even though this place is small, that does not mean that there is nothing special here. The truth is that even in this small place, there are some of the most beautiful views of the world. The natural beauty of Landour holds many secrets with it, obviously, you will be able to know about them only by coming here.
Buy special Travel Bags for tourism in hilly areas from here….
Ivy Cottage
Who doesn't know Ruskin Bond? You must also know that the world's famous writer, Ruskin Bond, spent his childhood in this place. It was on the grand plains of Landour that he infused new feelings into his writings. Since childhood, he has composed many stories and poems about this place. Being a great writer of the world, he exposed the natural treasure of Landour.
Sister Market –
The beauty of the mountains of Landour is an untouched natural treasure for the world today. Landour's sister market is a special jewel in this treasure. Sister Market is situated at one end of the infinite '8' road. In this beautiful hill market in Landour, Mussoorie, you will find many wonderful cafes and restaurants, some of which are quite famous.
Landour Bakehouse
As we told you earlier, Landour is a historical place. In the olden days, during the 1830s, there used to be community ovens in every village here. Landour's bakehouse has preserved the historical flavor of that time. In the 1900s, Landour residents used this community oven to make bread. Along with this, every year we used to publish a 'Landour Cookbook' documenting all the old recipes.
This trend continues even today, with Landour bakeries maintaining their historic dignity. Now the Landour bakehouse makes buns, desserts, croissants, cookies, scones, pudding, and delicious crepes. Their taste is also the same as old, the years have passed, but the taste z the same, and the method is the same.
The best place for you to sit here is at a table by the window,From this window, you can have a unique view of the beautiful Himalayas and tall oak trees. There is also a wonderful view of the roads passing through here, the thick shadow of the trees, and the beautiful view that goes along with it. Some words written on a blackboard on the wall took me by surprise. It was written that
"We don't have wifi, please pretend you're in the 1980s and talk to each other."
Along with the Landour bakehouse , the cafe built here is also famous for its old-style decoration and food. You must try the main strawberry Crepe' and peanut Butter Crepe' here. The stunning wooden decor is sure to win your heart. Special decorations have also been done on the walls. The kitchen built here is also a center of attraction for tourists, in which the best decoration and workmanship of the 19th century have been done.
Anil Prakash Store (Landour, Mussoorie)
You must be thinking about what would be so special about a store for which this is being written. But for your special information, let me tell you that the Anil Prakash Store has a very different history from any common store. One of the oldest shops in Landhor, this store is famous for its special peanut butter in almost every part of the world.
The store was opened by American businessmen living in Landour during the 1830s. He used the most modern machinery and tools of the time. Later, when the American people left here, he sold his entire store to Indian resident Mr. Anil Prakash. Anil ji kept the same taste till date with the same old machines of the store. Today, Anil Prakash Store is one of the most famous stores in the world.
This store was very famous even during that period of time. The homemade food items like chutney, jam, peanut butter, and cheese available here are famous for their special taste and excellent quality.
Anil Prakash Store is the best option in Landour to get any food item. The taste of their cheese and jam will definitely make you feel like it was a fun experience.
Prakash Handicraft Shop
If you want to buy handmade home furnishings made by the local residents of the Garhwal region, you can shop at the nearby Prakash Handicraft Shop. All the products manufactured here are very special and interesting. Foreign tourists buy a lot from here.
Char Dukan
Landour is only 5 kilometers away from the hustle and bustle of Mussoorie. While you are moving towards Landour, you will come across a place called Char Dukan on the way. As the name suggests, there are four historical shops together, located near the 'Sister Bazaar' of Mussoorie.
These shops were opened to meet the domestic needs of foreign students studying at the famous language school in Landour. Almost all the shops present here have foods suitable for hilly areas. Which especially includes tea, Maggi, paratha, pakoras, coffee, and bread toast.
Tip Top and Anil's Cafe, located here, are such shops that have a strong claim to being more than 50 years old. Every big personality living in Landour has bought goods from these shops.
Kellogg's Memorial Church
Built right at the end of an 8-shaped road, this ancient church truly showcases some of the finest art of the era. Unfortunately, I have always found it closed every time I have come here. The church is reminiscent of the olden days, with special colorful paintings on the stained glass windows. The stained glass windows add to the beauty of the church.
In 1903, the entire church was remodeled as a Presbyterian Church using the Gothic architectural style. The church was named after Dr. Samuel Kellogg, an American missionary who lived here and contributed greatly to the development of Landour.
Landour Language School
Near the church is the Landour Language School, built during British rule. During British rule, those people used to learn Hindi at this school. Dr. Samuel Kellogg greatly influenced the British to learn Hindi. He wrote a wonderful book on Hindi grammar, which helped the British learn Hindi.
Even today, this school is running smoothly. Now Hindi, English, Urdu, Punjabi, and Garhwali ​​are taught in this school. The students studying here include local and foreign students.
Landour Winterline –
You will be surprised to know that there are only two places in the whole world where Winterline is seen. Actually, Winterline is a rare atmospheric phenomenon and is the result of those special conditions in the atmosphere when the warm air is buried under the cold air. This type of special situation is seen in the whole world only in Mussoorie, Uttarakhand, or Switzerland.
Now you can probably understand the importance of this special place. Not without reason, Mussoorie is called the Queen of Hills. Due to these specialties, Landour has been home to famous personalities around the world. Be it Sachin Tendulkar or Ruskin Bond, one of the great personalities has found solace in Landour. The special view of the winter line can be seen at sunset.
St. Paul's Church
Another ancient cantonment was built during the British Empire. St. Paul's Church was a prayer house for the English, where they were allowed to go to church with their rifles. Construction of the church was completed in 1804 During that time, British soldiers, with their weapons, used to pray in this church.
The weapons of British soldiers were often stolen while praying in the church. This was the reason that later, in 1857, deep rows of rifle-like notches were carved into the wooden pillars of St. Paul's Church, where English soldiers would lay their rifles during prayer.
This St. Paul's Church in Landour has a beautiful, natural feel. Praying to God on the sky-high heights of mountains, it seems as if we are closer to God. The deodar trees around the church and the whole atmosphere are very peaceful and worth seeing. If you are a person who likes peace, then visiting St. Paul's Church of Landour would be a wise decision.
Emily Restaurant by Rokeby Manor
Emily is considered to be the most expensive and luxurious restaurant in Landhor. The taste of every dish available here is considered very delicious. Not only the taste, but its whole color is very unique and beautiful. Not only Indian, but all kinds of foreign food is also available here. A special dish 'Sticky Toffee Pudding' found here is quite famous.
The interior decor of the restaurant has a very rustic feel to it. The brown brick walls will remind you of the old British days. There is a glut of books and different types of bread-sandwiches. The bread used here is specially sourced from Landour Bakehouse. Overall, Amelie Restaurant is a must-visit place in Landour.
Ruskin Bond House
It seems a bit difficult to ascertain whether Landour became famous because of Ruskin Bond or because of Ruskin. But the beauty of Landour is the real reason for its fame around the world. Ruskin Bond is considered to be an Indian writer of British origin. He composed many works of children's literature.
His house in Landour is situated in a very beautiful place. I believed that if I went for a walk near his house, I might get a chance to see him, but as always happens, I could not see him. Bond's house is located right next to the Doma Inn.
Some great books are written by Ruskin Bond –
1- The Best of Ruskin Bond – Buy Now
2 – Mussoorie and Landour (days of rose and wine) – Buy Now
4 – Words From The Hill – Buy Now
Lal Tibba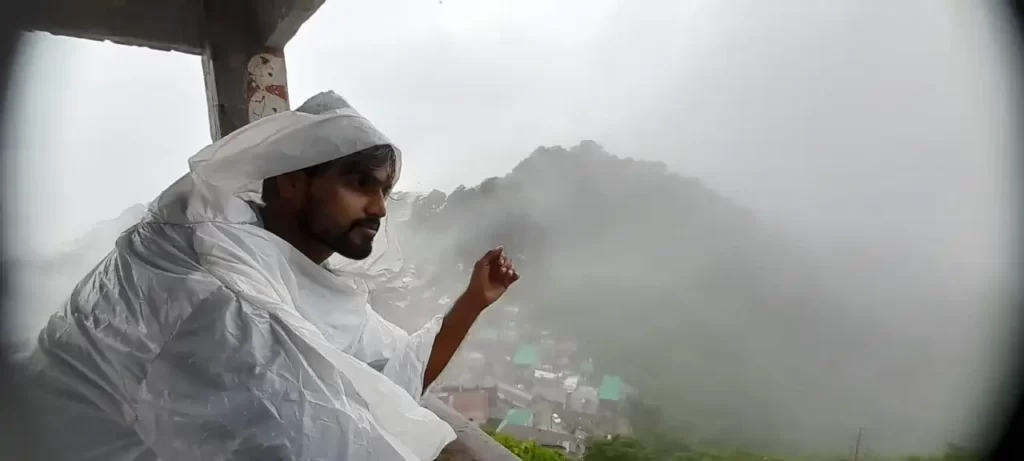 Lal Tibba is the highest peak of Mussoorie, or Landour. The view from here is a special attraction among tourists. In fact, in the Pahari language, the sun is called Tibba. The sky on this peak looks completely red in the morning and evening, and the color of the sun also looks bright red. This is the reason why this place is called Lal Tibba, meaning 'red sun'.
The scenic view from here is so mesmerizing that it is heaven for your eyes. Snow-clad Himalayas in front and a peaceful, cool mountain environment. You look so beautiful standing among the clouds that such an experience cannot even be imagined on ordinary domestic days. There is also a special thing related to religious sentiments: one can bow down to all four holy places from here.
Two special restaurants built here play an essential role in seeing this sight. This beautiful view can be seen from the binoculars on their roof or without binoculars. There is nothing better than gazing at the Himalayan mountains with a cup of piping hot coffee.
Click here for more information about Lal Tibba…
Jabarkhet Nature Reserve:
To visit the wildlife and dense hill forests, you must visit the Jabarkhet Nature Reserve. This Nature Park, located just five kilometers from Landour, is one of the most special and beautiful places in Landour. Here you can see many other species of wildlife, including leopards, deer, and a large variety of insects.
You are allowed to visit it by the management of Jabarkhet Nature Reserve. Along with the climb of about two to three hours, you can see this nature park closely.
Best season to visit Landour, Uttarakhand
One can come here to visit in every season of the year. Every season, you get a chance to see a different view here. Personally, I enjoy visiting Landour the most during the rainy season. If you want, you can come here in the winter or in any season. The weather here is always cold, so do bring warm clothes with you.
Most of the tourists come here during the summer season. Mussoorie is the perfect place to escape the scorching heat of April and June.
People also like to come here in the winter to enjoy the snow. It totally depends on which season you like the most here.
I believe you should visit here from October to November. If you are lucky, you will also get a chance to see the Winter Line. Landour is never crowded, so people looking for peace and relaxation can have a good time here.
Best Camera For Nature Bloggers Photography – Buy Now
How to reach Landour, Mussoorie:
Actually, Landour is considered a part of Mussoorie, and it is located just 7 km away from the crowded city. The special thing about Landour is that even after being so close to Mussoorie, this part is still untouched. There is no crowd here, only beautiful views and peace.
By Road-
From Delhi to Dehradun, catch a bus or taxi and reach Dehradun directly, from here, you can come to Mussoorie bus station to catch a government bus. After coming here, you will find buses and cabs available for Mussoorie. The ticket for going from Dehradun to Mussoorie by government bus is only 80 rupees, whereas by personal cab, you can reach Mussoorie for 1500 to 2000 rupees.
After reaching Mussoorie, you can also reach Landour on foot, enjoying the weather and scenery. For people living in flat land, walking on mountains becomes a big challenge. If you wish, you can reach Landour from here by taxi and mule as well.
By Air –
The nearest airport is Jolly Grant Airport which will take you to Dehradun, and later you can take a taxi to Landour.
By Train –
The nearest railway station is also in Dehradun, and the rest of the process is the same. Visit http://www.irctc.co.in/ to check train timings.
Mussoorie to Landour
The distance from Mussoorie's Picture Palace to Landour remains about three and a half kilometers. If you are a healthy person, then this distance can also be covered on foot, considering the beauty of Mussoorie. My personal opinion is that traveling in hilly areas is more fun on foot.
But if you are suffering from any disease, then obviously you should book a cab from Mall Road. Because not everyone can drive on the roads here. The cab driver will drop you off from Mussoorie to Landour for Rs 400 to Rs 500.